Please check out the new Instant Help (beta) first before posting.
[Solved]

Tracking-ID from Favicons
Topic starter
12/02/2021 9:53 pm
Hi,
will this: <a title=" removed link " href=" removed link " target="true"> removed link compromise eBlocker?
<a title=" removed link " href=" removed link " target="true"> removed link
Greez
Bernd
Sorry Bernd, the forum software strips out links from first time posters automatically. You can try to edit your post and insert the links again or add a reply to the thread. But I'm not 100% sure this will work. Keeping fingers crossed.
THX!
@epikrise I can only guess you mean something like this: https://www.heise.de/news/Browser-Fingerprinting-Favicons-als-Super-Cookies-5027814.html ?
We've actually discussed this threat vector in the team early January already 😉 😎 
With eOS 2.6 (due in a few weeks) we'll be releasing a feature to add individual blocking pattern ad hoc. Then one can define a rule to block the favicon completely. Today you can also add this but need to provide a URL to load the pattern list from.
If there is user demand, we could built-in a favicon blocker switch. But as this a rather specific technique not yet used very much in the wild, users probably choose to keep their favicons for convenience rather. That's why we had decided not to take immediate action and observe if this really bears a risk in future.
Hope this helps.
I've just checked with the new 2.6 feature to add custom blocking lists "ad hoc". Using the following you can block all favicons following the standard naming convention:
favicon.ico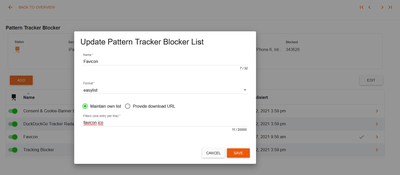 eOS 2.6 will be released during this week if you want to check this out. But be aware: next to blocking possible tracking via favicons all regular favicons will be gone too...
Topic starter
14/04/2021 9:58 am
Thanks a lot.
Favicons are definately not essential, therefore ...
Bernd