Imporant note
The eBlocker Open Source project is not a legal successor of the discontinued eBlocker GmbH and is not a continuation of their business. Please understand that we unfortunately cannot answer any questions regarding the eBlocker GmbH, cannot process any warranty cases and cannot offer any support.
We run this project on a voluntary / part-time basis and do not intend to make any profits.
Provider of this Website (according to German §5 TMG)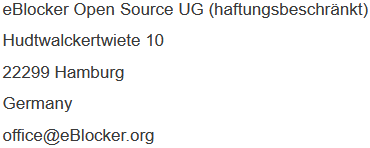 Important: If you have a support question, please ask it only in our Community Forum. Unfortunately, we cannot answer technical questions via email.
Authorized to represent & responsible for content (according to German §18.2 MStV)
Christian Bennefeld (Managing Director)
Address see Provider.
Data Protection Officer
There is no data protection officer appointed, as less than 10 persons are regularly involved in the processing of personal data. We will be happy to answer your questions about data protection under the contact details given in the imprint. You can find further information in our data protection declaration.
Commercial Register & Register Number
Amtsgericht Hamburg, HRB 160491
Tax ID & VAT ID
49 / 717 / 02295 & DE327457728
Legal Notice
All Rights to the contents of these Internet pages are reserved. The also applies to rights to brand names and logos.
eBlocker Open Source has checked the pages linked to this website before setting a hyperlink and did not find any illegal content on the linked pages. However, we have no influence on the current or future design and content of linked pages.
Trademarks
The brand name "eBlocker" and the eBlocker icon are licensed trademarks of eBlocker Open Source UG (haftungsbeschränkt). Third parties are prohibited to use them without written permission.
"ODR Platform" / Online Dispute Resolution of the EU
The European Union has established an online platform ("Online Dispute Resolution Platform", or ODR platform for short) for the out-of-court settlement of consumer disputes. The ODR platform is intended to serve as a contact point for out-of-court settlement of disputes concerning contractual obligations arising from online sales contracts. The platform can be found at http://ec.europa.eu/consumers/odr.
We shall endeavour to settle any differences of opinion arising from our contract with the customer by mutual agreement. In addition, we are not obliged to participate in arbitration proceedings and unfortunately cannot offer our customers the opportunity to participate in such proceedings.