Please check out the new Instant Help (beta) first before posting.
[Sticky]

DuckDuckGo Tracker Radar experiences
Topic starter
26/03/2021 11:55 am
With eBlockerOS 2.6 we have introduced the DuckDuckGo Tracker Radar blocker (DDG blocker) as a standard. To activate simply go to Settings>Blocker>Pattern Tracker Blocker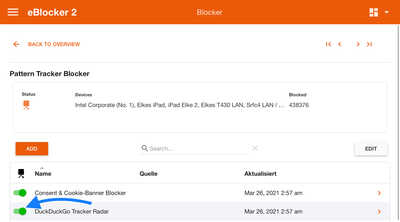 This DDG tracker blocker is considered as a "sharper" add on to the curated eBlocker tracker blockers, where we focus on a balance of convenience and privacy.
The DDG blocker is for users who need extra privacy (ie. by blocking tracking CDNs) and who can handle the fact that some websites will not be displayed properly or even break completely due to this extra. 
As we compile the raw DuckDuckGo data to our pattern blocker format (thanks to @mainzelM) we algorithmically make a selection from the data. Now we want to fine tune the algorithm and need your feedback for doing so.
Please report any inconveniences with the DDG blocker in this thread so we can learn and improve the algorithm.
Thanks very much.