How to save cash when booking a hotel on the Internet
The same city, the same hotel, the same travel period – only the price is completely different! What is sold to one holidaymaker as a bargain, is offered to another at a much higher price. A coincidence? Not at all. Our new study confirms: This price discrimination is more complex than you think. Travel portals make selected customers significantly better offers than the rest. The only question is: Why? And above all: What can you do to get exclusive offers? We have the answer!
Sneaky algorithms monitor us all over the network
Sneaky algorithms are behind all these personalized prices. They have only one purpose: to find out which users have the highest purchasing power. They basically collect every single detail about us. "Anyone who surfs the Internet today is permanently monitored," says our managing director Christian Bennefeld. "Travel portals also evaluate our surfing behavior precisely in order to make individual offers. But individual doesn't automatically mean cheaper…"
Holidaymakers who look for trips to the Maldives may be classified as more solvent and therefor get charged with higher prices by the travel portals. Holidaymakers who are only interested in cheap hotels may experience the opposite. Experts call this "personal pricing". "It only serves to maximize the providers' turnover and profits," says Bennefeld.
Expedia.de only shows cheaper, exclusive offers on mobile devices
Even if we are careful, we cannot prevent travel portals from analyzing which device we use for surfing. Tests have shown that people who purchase with a mobile phone usually pay the most. However, with travel portals this is often the other way around, as our recent eBlocker study proves. For e.g., the German booking website Expedia.de makes "exclusive mobile offers" to users with a smartphone or tablet. Savings potential: just under ten euros per night and room.
Visit the city of love for a cheaper price on Valentine's Day
Paris, the city of love: where could it be more beautiful on Valentine's Day? Six romantic days at the Grand Hotel Clichy cost 510 euros on a stationary computer. The price on a mobile phone, on the other hand, is only 459 euros.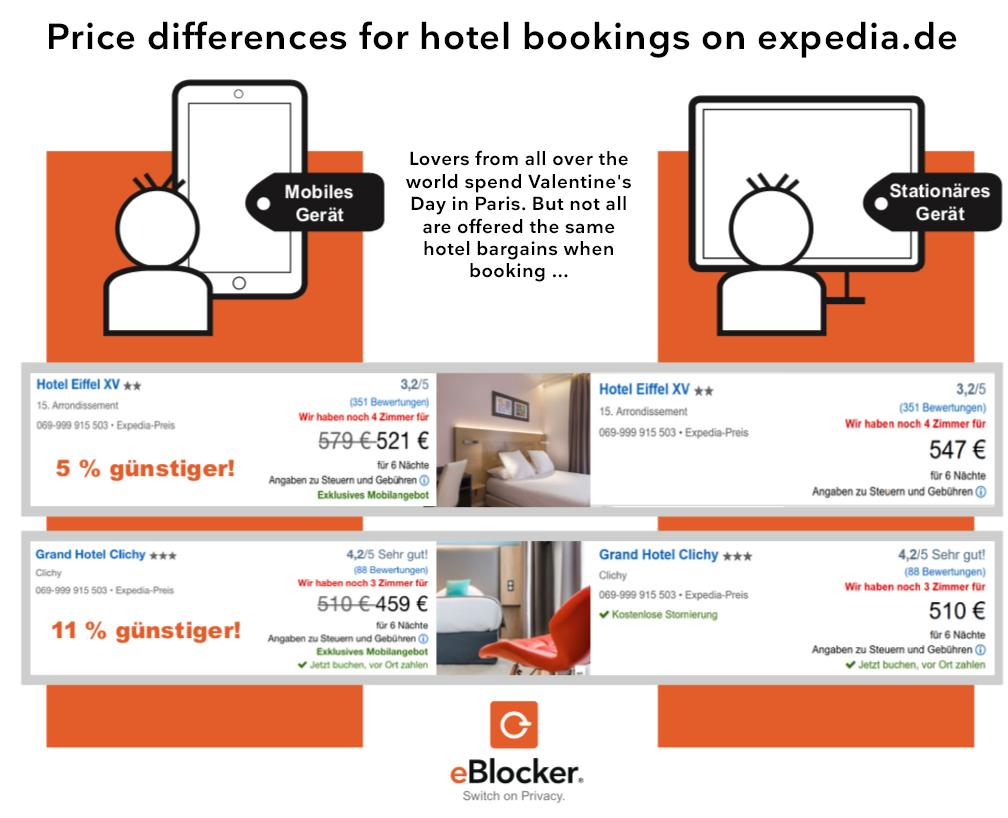 The sample proves that those who want to find the best offer should compare the prices on computer, tablet and mobile phone before booking. If you don't have the time or the money, you can simply rely on the eBlocker.
Sources:
¹As discussed at the consumer advice center, date: November 28th, 2018
²Study: January 11th,2019 on www.expedia.de
Search criteria: Hotels in paris and surroundings, 2 adults, 1 room, travel period: 11.-17.2.2019
Important note
Please note that this article was originally published by the former eBlocker GmbH. The contents may be outdated. Today, eBlocker is free of charge and available as Open Source. Check out the new eBlocker Open Source Project.