Please check out the new Instant Help (beta) first before posting.
[Bugs] White Cube eOS 2.5 BETA upgrade
Topic starter
10/09/2020 9:28 pm
Please find the upgrade instructions here: German / English
If you have upgraded your WHITE CUBE to eOS 2.5.x BETA and experience bugs, issues or some strange behavior: This thread is for you 😀 
Please tell us step by step how to reproduce the issue. Do not post Diagnosis Reports unless requested by the team.
Thank you so much for your help!
Hello everybody,
I updated the eBlocker to 2.5.4 - everything went so smoothly, but I seem to have a wrong date. In the dashboard, the update date is June 2nd, 2020, as well as in the settings in the update window (see screenshot).

Update: after rebooting the eBlocker, the date now seems to be correct.
(see screenshot 2)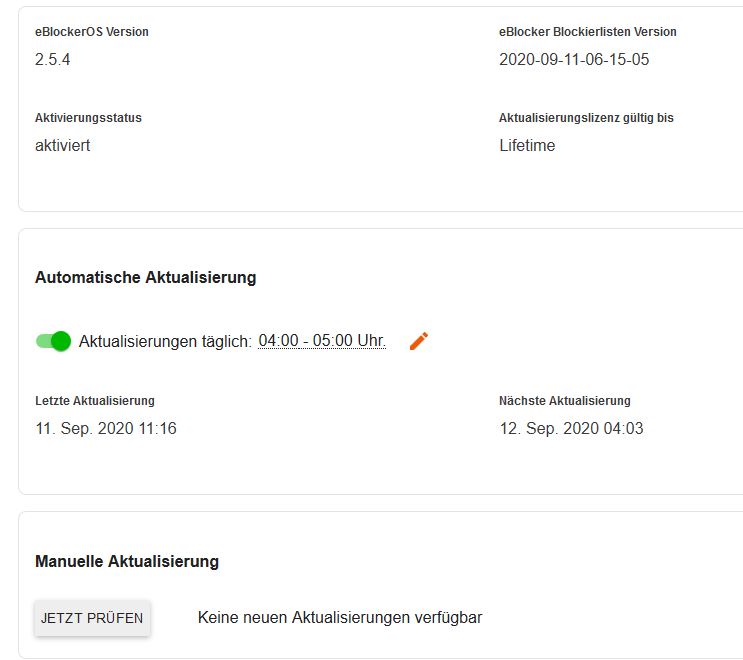 Just disable and reenable eBlocker as DNS Firewall in the Settings -> DNS-Firewall
Then restart the eBlocker and check the date under System > Events
regards
Sven
White Cube updated flawlessly to OS 2.5.4 at release date 11.09.2020
the cube had lifetime Pro license activated
yesterday i performed a full reset  and after that no acivation possible
can't update nor activate license (after the full reset)
The message say: eBlocker activation service cannot be reached. You may continue without activation
connected to a FritzBox 7530 and i have access to internet 
tried different DNS settings
several reboots
and i tried network mode automatic and network mode individual/expert
no success
Is there a problem with the activation service  / activation server ?
we had an issue with an expired certificate on the activation server.
Could you try again, please?
Thanks!
Hi all
just to let you know: I have upgraded a couple of days ago. And I delighted with the upgrade. My VPN, my biggest issue, works. I only noticed on VPN drop in connection, but it did not crash, and it only happened once as far as I know. So far, I am very happy with the progress of this update. Keep it up, you are doing the right thing with the right quality. And to migrate to a new platform is anything else than easy.... 
@gregor Thanks for sharing.
I took the freedom to join your post to the corresponding bug thread in case more people find VPN unstable. They might show up here 😉 
THX!