Please check out the new Instant Help (beta) first before posting.
eBlocker Dashboard consuming (much) CPU
Topic starter
07/01/2021 8:01 pm
Hello everybody,
my new Safari told me something very interesting: After a while with opened dasboard, there was a banner which told me that this website is consuming much CPU. And indeed, the task monitor of my Mac grows up to 12% (nearly one core used) by just doing - nothing.
So I opened an built in analysis tool (see hardcopies)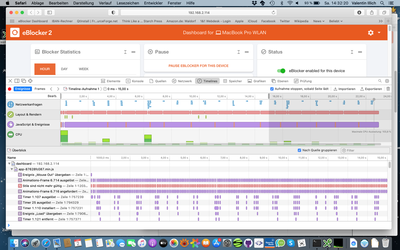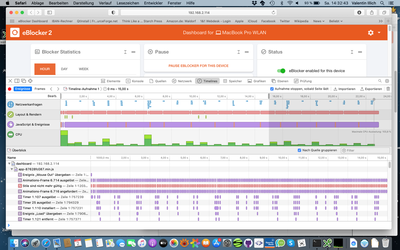 For my opinion, there is indeed too much activity.
eBlocker hardware
Raspberry 3 1GB
Client OS version
10.15.17
The dashboard pulls constantly from the eBlocker to display the current status. This probably causes the experienced load. 
Client communication can be changed by a talented developer to rather "push" changed data to the dashboard - to save CPU. But for sure this is not a minor fix.
So for the very moment if you need to save power/CPU: close the dashboard and open when needed only. 🤔😉