Please check out the new Instant Help (beta) first before posting.
No statistics after some time
Topic starter
13/04/2021 10:23 am
After a few days I no longer have statistics in the dashboard. They just stop counting for every device.
The blocker statistics stop working after about a week, that's my impression. When I restart the eBlocker, the statistics work again .... for a week.
Can anyone confirm this error or am I just affected?
eBlocker hardware
Raspberry 4 2GB+
statistics in the dashboard
I can not confirm the issue, generally.
But I'm not 100% sure where to look at, as we have a couple of stats in the dashboard. Global stats, Device stats (domains, graphs, ...) etc. 🤔 Screenshot would be great. 👍
Maybe anything specific to your config like added/changed blocker lists, parental controls active, etc?
THX!
Topic starter
14/04/2021 10:37 am
You are right, let me explain it better....
On this screenshot you can see that since sunday there are no more statistics (on the dashboard for every device):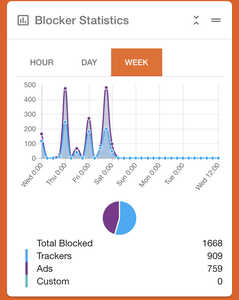 Also the total statistics stopped counting. Only the total requests are still counted. No longer the blockings: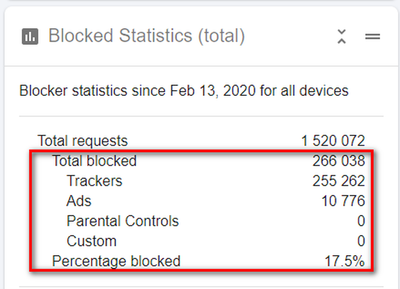 In my configuration I added some block lists. The problems with the statistics are only there since the update to 2.6. And I have the feeling that the count always stops on the night from Friday to Saturday
since sunday there are no more statistics
The stats in the graph shown (week analysis) are device depended. So if you don't use the device over the weekend this could be the answer. 🤔 
Are you sure the "Total blocked" is no longer counting up as well? Are you getting the same "Total blocked" stats on all devices?
THX!
Topic starter
14/04/2021 9:11 pm
In short: 
- I know that the graph in the first screen shot is device depended. On all devices the graph stopped at that day.
- I'm sure that the "Total blocked" stops counting too.
- Yes, on all devices I'm getting the same stats
Only the "Total requests" are still counting
I have double checked and my stats are all working - for much longer than a week. 🤔 
Can you please share your extra blockers so we can resemble your environment (at least a bit). 
Thank you.
Topic starter
14/04/2021 10:37 pm