Please check out the new Instant Help (beta) first before posting.
The eBlocker does not work
Topic starter
06/02/2021 3:22 pm
The icon is not displayed in the browser.
In device details it says: eBlocker is activated for this device. Check in "eblocker.org/de/privacy-check/" says location, provider, IP address, etc. are visible.
Network mode: Expert (unfortunately I'm not). Noticeable: DHCP service is set to external in the network settings. Underneath with a warning: Configuration for the external DHCP service, the IP address of the eBlocker is displayed. Here I would want to enter the Fritz! Box address that provides this service. But not possible.
Unfortunately, I hadn't worked with the eBlocker for a long time and didn't check its function. I recently reorganized my home network with new IP addresses. I've been using fixed addresses for a long time. Everything else works.
Now I wanted to try the TOR anonymization and had to find out that nothing seems to work.
I have worked through points 5.4 and 5.7 of the operating instructions: reset, restart, etc.
Any idea?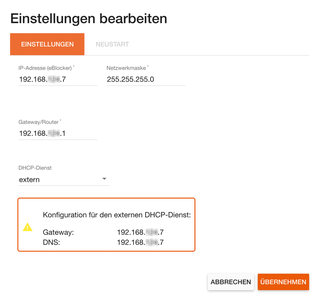 eBlocker hardware
Original White Cube
@leonpp Just checking back. Could you solve the issue with "Individual Network Mode" meanwhile? If not, I'm happy to help...
THX!