Please check out the new Instant Help (beta) first before posting.
[Solved]

How to get rid of Google
Topic starter
14/02/2021 4:21 pm
@randon
Changed the Topic Title, but subject remains the same
Router: FRITZ!Box 7590
IPv6 Support: disabled in router
iMac with macOS Big Sur version 11.2
eBlocker in Original White Cube with eBlockerOS 2.5.8
DNS Firewall: Use eBlocker as DNS server with Default Forwarding
BLOKKER: Pattern BLOKKERs as provided by eBlocker; NO other lists added
HTTP support (Dashboard): Both HTTP support and Certificate checked Green
Status-Test (Dashboard): ALL tests check Green
iPad 5e generation with iPadOS 14.4
After we thought to have solved the issue by disabling IPv6 in the router, our 'friend' is back. In the App from the 'Straiths Times' (see screenshot) there is an ad.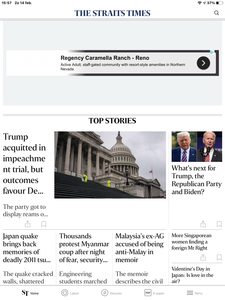 Rob
eBlocker hardware
Original White Cube
Topic starter
14/02/2021 7:34 pm
@randon
2 remarks:
1. In above topic i included my iMac in the spec; error, iPad only
2. knowing that you hate 'one-offs', i tried to reproduce. Rebooted iPad, checked that everything was OK in dashboard, opened the Straits Times app and saw:
Between the header of the page (STRAITH TIMES) and the the TOP STORIES there was a 'grayish' band (as shown as background for the ad in the screenshot i have send before), but there was NO ad. Then suddenly, after one or two seconds only, this band disappeared and i got the picture as enclosed.
I don't expect you to come up with i full prove explanation, but wanted to let you know anyhow.
Rob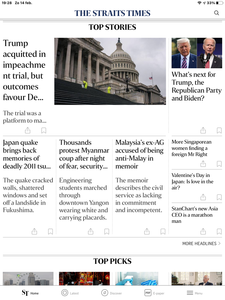 @robfranssen-fr I'm not sure if I understand you right?
Here is what I understood: You use the Straight Times App on iOS. When loading a news page in the App a grey placeholder for an ad appears - but no ad is shown. Then this placeholder collapses after a while, just leaving some "outlines" of the placeholder behind.
Is that correct?
If so: this is the normal behavior of how internet pages are set up. Usually the is so called "Inventory" of a publisher. These are all spots where the publisher offers ads. Now these ads are assigned in a real time bidding (RTB) based on the user's profile.
With eBlocker the communication to RTB systems is blocked - and depending how the site has been programmed, the site get's a timeout from the RTB request (after a few secs) and collapses the spot reserved for the ad (as there is nothing being loaded).
Maybe this helps a bit to better understand how ads come to your device and what eBlocker does in between. From my perspective your observations are desired and expected...
THX!